The countdown is finally over and we're excited to reveal our new Online File Converter for you. DigitalOfficePro Online File Converter – helping you convert media files online from one format into another. Our converter supports more than 1500 file conversions. You can convert Image, Audio, Video, Document, eBook and Archive files.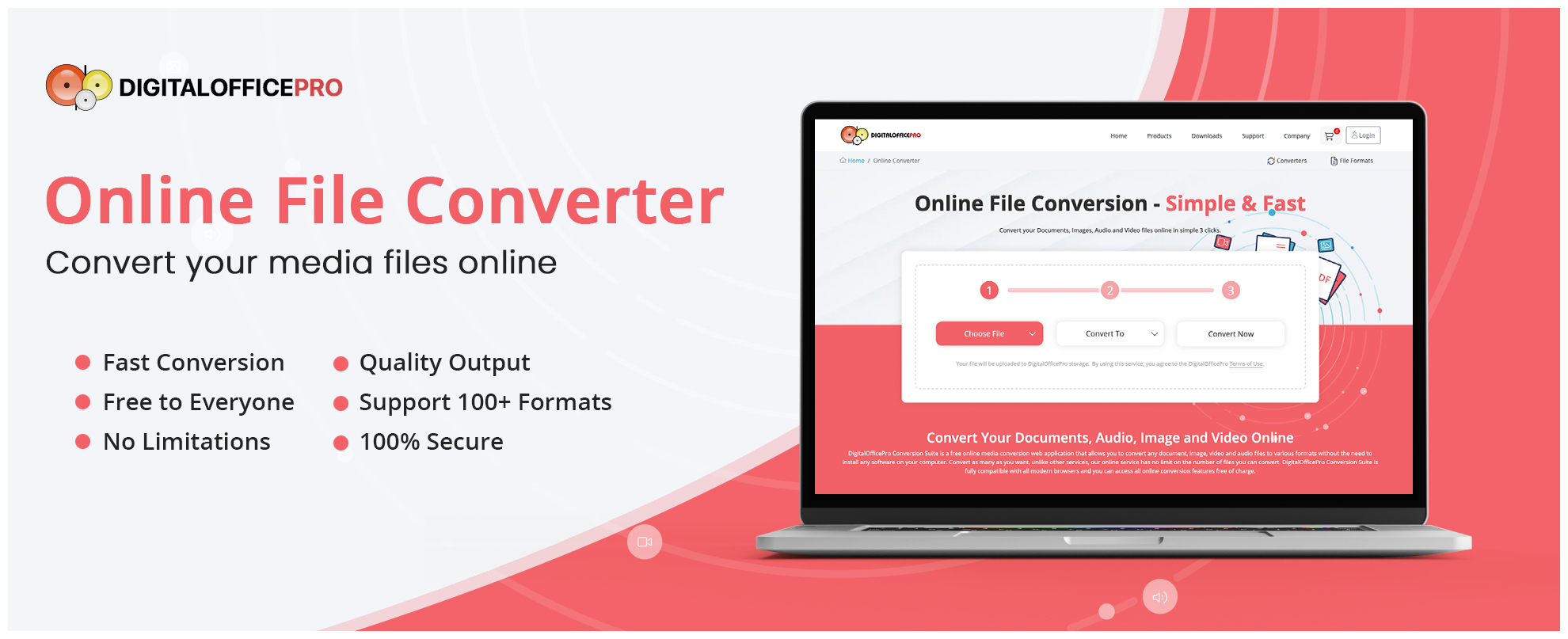 DigitalOfficePro Online File converter is a fast, seamless and 100% free way to convert your files into the format you require. Our conversion service is a web based application, so it works on Windows, Mac, Linux, or any mobile device. All major browsers are supported. Simply upload a file and select a target format.
Explore DigitalOfficePro Online File Converter ->
Access high-speed conversions
When you're at work, managing your time is your utmost priority. So we make it ours too. We ensure that you use the least amount of time on menial tasks like the conversion of files so that you have more time to focus on your work. Our powerful, innovative and state-of-the-art conversion servers help us provide faster file conversion services. Minimize the time it takes to convert your files!
Avail the best quality results
Along with providing you speedy services, we ensure that the quality of your work is not tampered with. With DigitalOfficePro's new conversion service, you get the benefits of speedy conversions with no limitations that are 100% free, but will also deliver the best of quality. High-quality conversion algorithms are used by us to ensure that your converted output has the same quality as the original file that you shared with us.
Your confidentiality is our priority
Let the concerns relating to the confidentiality of your file take a backseat. We ensure the privacy and confidentiality of your business and your files through the process of conversion. The files that you share will merely be converted and shared back with you, without being saved on our end. It is instantly deleted from our servers after the conversion process.
An uninterrupted experience with zero limitations
To make your process of file conversions as seamless as possible, we have ensured zero interruptions and limitations. In the midst of your process, you will not be required to register or login to our website. Additionally, we also offer the benefit of converting as many files as you require, at the same time.
We support more than 100 formats
We support almost every file format that you wish to convert. This means that you won't have to reach out to multiple websites to access different formats of conversion. Make DigitalOfficePro your one-stop shop for all your file conversion requirements. We give you a range of options and cater to your every need.
DigitalOfficePro Online File Converter is available as a free service. Visit https://www.digitalofficepro.com/convert to experience our online converter today! We're confident it will be your file conversion companion for many years.
Looking forward to your feedback, reviews and success stories!